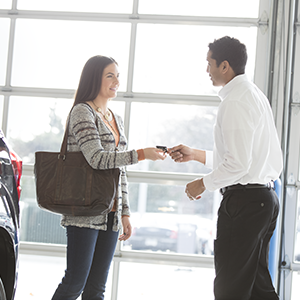 Welcome to our Chevrolet Buick Cadillac GMC financial department in St-Georges near Sainte-Marie, Lac-Etchemin, and Thetford Mines, the best place to go when you want to receive a car loan quickly. Our financial specialists are devoted and honest and will help you to find the money you need to purchase your new or used vehicle by providing you with a car loan at competitive rates. Whether you've had credit problems in the past, or not, come and see us now at our dealership, we can help.
Find a car loan quickly
No matter the quality of your credit score, good or bad, our specialists will help you to find the best car loan available on the market. Even if financial institutions have refused you in the past, we can give you one. In fact, our dealership is a member of Groupe Couture, and as such, we have a number of financial partners, making us willing and able to find you the perfect loan to meet your needs.
We have complete faith in you
At our dealership in St-Georges near Sainte-Marie, Lac-Etchemin and Thetford Mines, we sincerely believe that each of our clients deserves to have the necessary financial aid to buy their new vehicle. That's why we have decided that all our customers are eligible for funding, whether or not they have a good credit score. And, in case you have already had financial issues in the past, you should know that we are willing to give you a second, or even a third chance at credit.
Receive pre-approval in fewer than 10 minutes
To receive pre-approval for credit quickly, you don't even have to leave the comfort of your home. All you have to do is fill out our online credit application form. The information that you include is strictly confidential and will never be shared as we follow a stringent confidentiality policy.
At St-Georges Chevrolet Buick Cadillac GMC, we can help you refinance your car loan or modify it to fit your needs; all you have to do is contact us! If you are looking for automobile credit, come to meet with our specialists who will find you the best possible solution to be found in the car financing industry!
Financing request