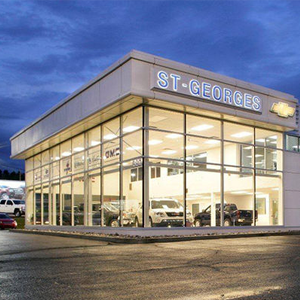 We are a member of the Groupe Couture family, and the St-Georges Chevrolet Buick Cadillac GMC dealership was created from the fusion of two former dealerships, J.W. Morin and Automobile National. Over the years we have managed to make our mark with consumers and have become the gold standard when it comes to cars in Beauce. Today we are proud of the work we have accomplished and we make sure that our top priority is always customer satisfaction.
The mission of our dealership
The whole team that works at our dealership is motivated by the same mission: to meet and then exceed your expectations. In order to do this, all our members put their know-how and their expertise to work for our clients. Whether you need our sales associates or our staff in the after-sales department, you will receive top-notch service.
An incredible and unforgettable buying experience
At our dealership, our team of professionals will make sure that you have the best shopping experience of your life. As well as taking care to answer all your questions, they will make sure that you shop in a warm and friendly environment and always treat you with respect and courtesy. Here at our dealership, we put no pressure on our clients, and we give them the time they need to make the best possible decision.
A team made up of the greatest experts in the region
At St-Georges Chevrolet Buick Cadillac GMC, we are proud to say that we have gathered the largest group of experts in the whole area under our roof. In fact, our qualified personnel are well trained to meet the manufacturer's standards and they know our cars inside and out. Don't hesitate ask them for all the information you need and to trust them with your vehicle when it breaks down; our specialists are at your complete disposal.
If you have questions about our dealership, our financing, our services or our cars, contact us as soon as possible! The whole team at St-Georges Chevrolet Buick Cadillac GMC are looking forward to showing you our commitment to customer satisfaction.